Quicklinks: Clubs in the London area, Traveltimes, Bus, Rail
It's definately worth taking a view beyond London's borders. Despite the large number of clubs from London, it actually might happen that on certain dates, there are no matches in London itself. In addition to that, football fans who have managed to visit all grounds in London might want to go on and explore the rest of the football country.
Besides, it's not totally unlikely, that the journey time to a ground just outside of London is shorter than the journey time to some clubs in London. For example: Starting from King's Cross, it only takes approx 40 Minuten to get to Luton's Kenilworth Road, but almost one hour to Brentford's Griffin Park.
This is a compilation of clubs, that are located within approx one hour journey time from London:
WATFORD Metropolitan Line to Watford from King's Cross approx 50 minutes plus a 20 minute walk
LUTON 35 minutes from St.Pancras with the National Rail, plus approx 15 minutes walk
WYCOMBE 30 minutens from Paddington with the National Rail plus approx 40 minutes walk (or 5 minutes bus)
READING 30 minutes from Paddington with the National Rail plus busride
BRIGHTON 50 minutes National Rail to PRESTON PARK plus a 10 minute walk
MILTON KEYNES 40 minutes from Euston plus a 40 minute walk
GILLINGHAM 50 minutes from Victoria plus a 10 minute walk
SOUTHEND 55 minutes to Prittlewell from Liverpool Street or Stratford plus a 5 minute walk
SWINDON 60 minutes from Paddington plus a 15 minute walk
ALDERSHOT 60 minutes from Waterloo plus a 10 minute walk
CONFERENCE: STEVENAGE, WOKING, GRAYS, EBBSFLEET
The majority of clubs surrounding London is not exactly England's top flight. So you might consider taking a longer (day) trip. As a bonus, you get to see something else from England besides "just" London.
Average journey time to bigger clubs and cities
Journey times usually tend to differ a lot. Bus rides can either be short with a direct connection, or really long with numerous stopovers. So it definately makes sense to check for fas t connections.The listed journey times refer to train rides with the National Rail and bus rides with National Express:
| | | |
| --- | --- | --- |
| From London to | Bus | Rail |
| Southampton, Portsmouth | 2:45 h | 1:30 h |
| Ipswich | 2:45 h | 1:15 h |
| Norwich | 4:00 h | 2:00 h |
| Birmingham | 3:00 h | 2:15 h |
| Nottingham | 3:00 h | 2:00 h |
| Stoke | 4:30 h | 1:45 h |
| Leeds | 4:14 h | 2:30 h |
| Manchester | 5:00 h | 2:45 h |
| Liverpool | 5:30 h | 3:00 h |
| Sheffield | 4:00 h | 2:30 h |
| Newcastle | 6:30 h | 3:15 h |
As shown in the table, there are basically two options to get from point A to point B in England: bus and rail. No matter which option you might want to go with, it always pays to book early.
BUS (Coach)
A bus ride is a right pick if you want to travel for small money and therefore accept longer journey times. This is mainly due to the fact, that with London's traffic it usually takes a bus almost half an hour to get out of the city. This is why it doesn't make sense at all to take a bus to cities just outside London. You will be way better off with a train ride. However, a busride is just perfect for longer trips.

The most important intercity bus stationis Victoria Coach Station, located just outside the Victoria Rail Station, Busses are usually on time and - peak times left aside - not very crowded. Before boarding the bus, you have to make sure that you have the printout of the reservation with you, as the driver will want to see it.

There are two major bus companies:




National Express: More or less England's "official" bus company. It offers an extensive number of connections, almost every city can be reached. The busses are modern, some of them are even equiped with flatscreen TVs. An early booking will save you lots of money. There's a fare called "funfare" with which it's possible to travel throughout the country for 5 Pound! A return ticket would cost you 10 Pounds, which is a good call for longer journeys. But there's only a small capacity of these tickets, so you should be quick reserving your seat. Even if you decide later on not to travel, it's a loss that won't hurt you bad. After the funfare tickets are gone, prices will go up, but check yourself.






Megabus: Megabus presents itself as a low cost bus service and treis to attract customers with similar offers like National Express (bus rides from £1). Compared to National Express, The Megabus schedule is worse than the one of National Express, they often offer two to four connections per route per day only. Additionally many of these connections are very slow due to many stopovers. The name "Megabus" is not totally appropriate. The company has some very modern coaches in their fleet, however some of their busses have seen better days. A big advantage of Megabus is the opportunity to get cheap tickets even when the travel date is already close.
All in all it is always a good call to compare prices and journey times of both companies.
RAIL
Tavelling by rail is the perfect option when you want to go to cities just outside London, or when you go on longer trips and don't want to spent too much time on the road. But getting somewhere fast has its price. If you don't book early, the fares go up to very unpleasent amounts. An exepction are short distances "Cheap Day Return"-Tickets (see below) can be bought on the day of the travel for an affordable price.
A few years ago, Britain's railway went from public to private ownership. That's why nowadays there are numerous different railways companies operating. Yet all cooperate and reserved tickets can be picked up at every counter/machine. There's also a common schedule so that you basically get the feeling that there would be one only railway company.
London has many railway stations: Victoria, Liverpool Street, Waterloo, King's Cross, just to name a few. The station from which a train departs is determined by its destination. Stations in south London serve cities in southern England, aso. However it's sufficient to enter 'London' into the Journey Planer on the National Rail website. The right departing station is selected and displayed automatically.
As mentioned above, there's a special ticket for short day trips called "Cheap Day Return". 'Day Return' because the ticket is valid for one day only, so you have to get back to London on the same day. 'Cheap' because it's a lot cheaper than buying two seperat one way tickets, even the walk up fare doesn't differ, so it doesn't matter when you buy it. You can reserve it in advance on the internet or buy it from a machine within the station. With this special ticket, almost all of the clubs surrounding London (see above) can be reached for £10 to £15 return.
To check connections: Journey Planer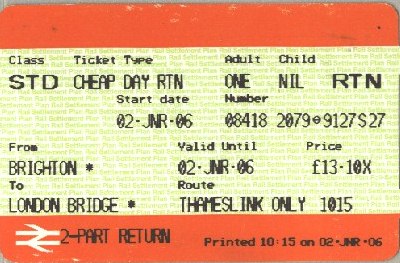 Cheap Day Return Ticket