Quicklinks: Blue Square Premier (Conference), Blue Square South (Conference South), Ryman, Reserves
Besides professional football, there's a lot of semi-professional and amateur football in and around London. But don't get fooled by the term. There's nothing "semi-professional" about the Football Conference. In fact, the grounds can compete with many professional football stadiums in other countires. Football below League Two is called "Non League". However it doesn't mean that teams don't play their season in leagues, it just means that the lower leagues aren't part of the official and professional "Football League".
Attending a non league match can be quiet an experience. Admission is cheap, you get very close to the action and you can afford fish&chips at half-time. But be aware that from a certain league level downward, the matches will be played on plain sport fields withou terraces or anything. Also London's not really big when it comes to successfull non league clubs. Many better teams are located just outside London, so they will be mentioned here as well.

The Blue Square Premier Football Conference is England's highest non league division. for many years it was known as "Nationwide Conference", until the British bookmaker Blue Square bought the rights in 07/08. Due to the fact that the champion gets the promotion into the Football League (League Two), at least the bigger clubs have pretty good grounds.
STEVENAGE BOROUGH
Stevenage is located a little north of London. It's a satellite town with about 80,000 inhabitants. The ground "Broadhall Way Stadium" has a capacity of approx 7.100 and is located in an industrial park. Stevenage Borough has had stints in the Football League, so the stadium is presentable. Getting there is easy, it's a 15 minute walk from Stevenage station (signposted!). Stevenage is served by trains from King's Cross.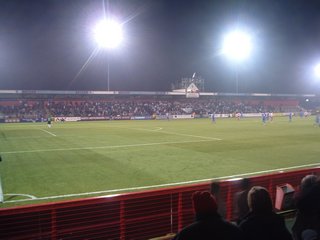 WOKING FC
Woking with its 90,000 inhabitants is located southwest of London. Besides the famous McLaren Racing Team, Woking has a lot more to offer, e.g. the Woking FC. Woking's stadium is called "Kingfield Sports Ground", with a capacity of 6000. The ground's show-piece is a modern stand behind the goal. Starting from the Woking railway station, it's a 20 minute walk through a nice residential area and a park. Trains are running from London Waterloo.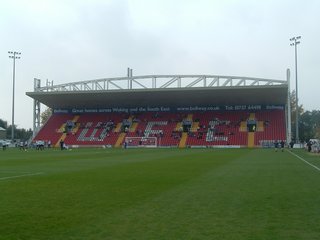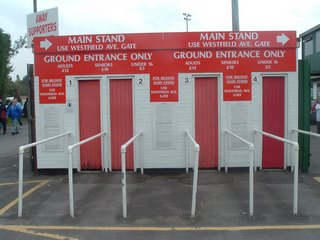 Other Conference teams around London:
GRAYS
EBBSFLEET UNITED (YES, this actually is the club from MyFootballClub.co.uk) Link: http://en.wikipedia.org/wiki/MyFootballClub
CRAWLEY TOWN

__________________________________________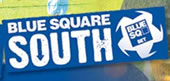 This is the division below the Blue Square Premier. It's split up into two leagues, the Conference North (Blue Square North) and the Conference South (Blue Squre South). There are a few clubs located in and around London.
AFC WIMBLEDON
AFC Wimbledon is probably the non league team that got the most attention over the last years. It was founded by fans of Wimbledon FC that totally disagreed with the club's decision to relocate from south London to Milton Keynes. It's great to see these guys having success. Many people support the idea and their gates (approx 3,000 per match) are just awesome if you keep in mind that it's actually 7th division. They've found a home at Kingsmeadow Stadium in Norbitron, but the ultimate goal is a return to Plough Lane, where Wimbledon FC once rose from non league to the European Cup tournament.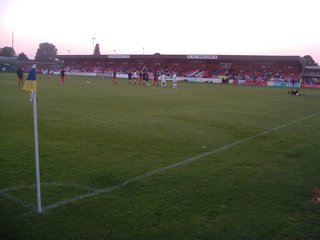 Other Blue Square South clubs in or around London:
Hayes & Yeading
Welling Utd
Thurrock
St. Albans
Bishops Stortford (Stansted)
Hampton & Richmond Borough F.C.

__________________________________________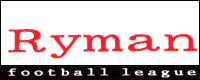 The divison below the Blue Square Conference is at least in the London area called "Ryman League". Ryman is also a sponsor name, it's an office supplier, similar to Dunder-Mifflin or Wernham-Hogg. Many teams are from London or from the outskirts. To get a good overview, visits this site: Ryman League
__________________________________________


RESERVES
A mixture between League and Non League football are the reseves of Football League teams. Attendances are usually low, however some reserves play their home matches actually in the club's regular stadium, so a visit might still make sense if you want to get an impression of the ground. But there are clubs whose reserves move to smaller stadiums for their home matches, too.

The Reserve League South is the reserve league of the "bigger" clubs. Here's a summary of London's clubs in the Reserve League South and where they usually play:
| | |
| --- | --- |
| Club | Host their home fixtures at |
| Arsenal | Barnet |
| Chelsea | Brentford |
| Tottenham | Stevenage |
| West Ham | Bishops Stortford |
| Fulham | Motspur Park |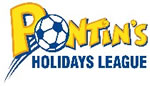 The Pontin's Holidays League is some kind of "Division Two" for reserve teams.
| | |
| --- | --- |
| Club | Host their home fixtures at |
| QPR | at Aldershot |
| Millwall | New Den |
| Orient | Brisbane Road |
| Charlton | Ebbsfleet United |
| Palace | Bromley FC |