Quicklinks: How to order, Clubs, Big Matches , Touting
With increasing ticket prices, it has become a little bit easier to get tickets for football matches in London. For the majority of matches, tickets can be ordered via the internet or via the club hotline.

Before we get deeper into the topic, you should be aware that football tickets are a whole lot more expensive in England than in other European countries. For a Premier League match, 35 to 70 Euro would be a ballpark figure. Even for a League Two match, you will have to pay approx 20 Euro. Concessions (e.g. for students) are rare in the Premier League, however kids and seniors (65+) will get cheaper tickets. In lower divisions (Championship, aso) concessions aren't really common, too, but it may pay off to ask when buying the tickets.
Especially when you're going to London to see a specific match, it's definately a good idea to get your tickets in advance. Although it's unlikely that matches in divisions below the Premier League will be sold out before gameday, you will avoid dissapointments when you've already got your ticket.
So how do I order tickets?
First thing to do is to check the respective club's website, on which day tickets can be purchased by non-members "General Sale". From that date on, everybody can get tickets for that match. So just visit the online ticket booking system or give the ticket hotline a call. In order to pay, you are going to need a credit card, so keep it ready while ordering.

Depended on how close the match date is, tickets will be shipped to you via mail or you have to pick them up at the Ticket collection counter at the stadium on matchday. You will have to present your receipt and/or credit card in order to get them..
How's the ticket situation at the different clubs in London?
| | | | |
| --- | --- | --- | --- |
| Club | Ticket situation | Ticket Broker Website | Club Ticket Website |
| Arsenal | If you're not an Arsenal member, chances to get tickets at Emirates are slim to zero. The Gunners have always drawn big crowds in the past and additionally the new stadium draws crowds as well. If you're lucky, Arsenal will get a really crappy opponent in a cup fixture. At this point that is the only scenario in which there will be a general sale. A change is nowhere near, so you should either become an Arsenal member, buy tickets via a broker or look for another stadium to visit. | | |
| Chelsea | It has become a bit easier to get tickets for a match at Stamford Bridge these days, matches against big names put aside. Matches against less attractive oponents as well as cup fixtures (especially CL!) often go to general sale a couple of days before the match. The easiest thing to do is to monitor the website (probably the best ticket section of all London clubs) and order as soon as possible. There's one thing you have to keep in mind: Chelsea lets its fans pay for seeing international stars play. Even the cheapest Premier League tickets will cost you about 50 Euro. | | |
| West Ham | After West Ham moved to the London Stadium, the ticket situation has become really tricky as the vast majority of seats are occupied by season ticket holders. Therefore chances to get tickets are not great, unattractive cup ties let aside. It is adviseable to have a look at ticket brokers if you want to see a West Ham home match. | | |
| Fulham | After Fulham got relegated to the Championship, tickets have been less of an issue and fairly easy to obtain, with some restrictions when it comes to local derbies. | | |
| Spurs | Since Tottenham is playing this season at Wembley with a capacity of 90.000, it has become significantly more convenient to get tickets. This will certainly change once the Spurs return to the Lane, despite an increased capacity there as well. | | |
| Charlton | After being relegated to the lower divisions, tickets shouldn't be an issue anymore. But check the website for derby matches and cup fixtures against attractive opponents. | | |
| QPR | LEss problematic than during QPR's times in the Premier League. Monitor their website and buy the tickets once tehy go on general sale. | | |
| Palace | After Palace established itself as Premier League club, the ticket situation has become really tricky. Many individual game tickets will only get sold to members, so you have to join the club or buy via a ticket broker. | | |
| Millwall | A sellout is rare at Millwall, however from time to time certain "trouble matches" will require a membership in order to buy tickets. Also check for all-ticket matches. These are fixtures with no ticket sale on the day of the match due to security reasons. (Potential opponents: West Ham, Birmingham, Sheffield Utd, Cardiff or Chelsea). | | |
| Orient, Brentford, Barnet | It shouldn't be a problem to get tickets for these clubs on matchday. Problems might occur when these clubs play each other or when there's an attractive fixture in the cup. | | |
In general, fixtures during the week (e.g. Monday night game of the Premier League) are in less demand, so it's easier to get tickets. Same thing goes for the Carling Cup (aka League Cup). Carling Cup tickets are often cheaper, too, however some teams (e.g. Arsenal) play this competition with their reserves. Still it's a great opportunity to attend a match in a stadium you normally wouldn't get tickets for.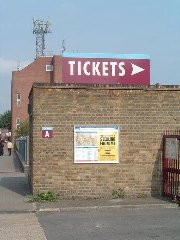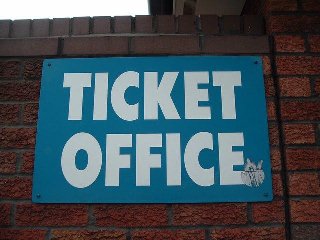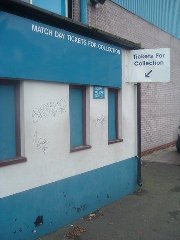 "What the hell, I want to see Arsenal - ManU!"
If you're totally focused on attending a big match, you basically have three options:
First, you could buy a ticket on the street (see Touting). Second, become a member of he respective club. This could come a lot cheaper than paying big bucks on the street. Membership fees vary, e.g. 30 Pounds at West Ham. For 30 Pounds, you will get at Arsenal a Red Membership only, which will give you the chance to get tickets for less attractive opponents only. Just check the website of the club you're interested in. All membership details should be listed there.
The third option is probably the most expensive one: Ticket agencies. There are lots of them, e.g. Sportsevents365 . Oftentimes these agencies offer packages that include matchday tickets and one or two nights in a hotel.
Touting (Black Market)
| | |
| --- | --- |
| Just like in every other country in the world, there are people in front of England's stadia who try to make quick money by selling ticket. They are called "Ticket Touts". Once thing first: Touting is illegal in England. If you get caught, you might get punished. There's also a chance that the access to the stadium will be denied with a ticket from the black market. Since touting is not allowed, the black market works differently than usual. Instead of holding tickets into the air, touts will ask if anyone has a spare ticket "Spare Ticket anyone?"). That's the sign that this guy is actually offering a ticket. The price is up to your negotiation skills. It's your own fault if you pay a fortune. Leave that to the Japanese... | |