Quicklinks: League, Cup, Friendlies, England, Links, Fixtures365.com


London's professional football clubs get to play about 300 home matches per season, dependend on their success and the draws in various national and international cups. This impressive number can be broken down to the following competitions:
The famous Premier League consists of 20 teams, which means that every club from London has 19 home matches per season, many of them are derbys against other London clubs. Kickoff times are spread all over the weekend: Saturday 12.45 h, 15.00 h, 17.15 h, Sunday 15.00 h and 17.00 h, even Monday night (20.00 h). From tiem to time, there are midweek fixtures on Tuesday and Wednesday night.

The League Championship is England's second division and consists of 24 teams. Most fixtures are on Saturdays, however sometimes matches will be moved to Friday night, Sunday or even Monday. Because of the large number of clubs in the league, fixtures on Tuesday night are very common, too.
League One and League Two are actually division three and four, don't get fooled by the name. Just like the Championship, both leagues also consist of 24 teams. With few exceptions, kickoff is on Saturdays. From time to time, there are midweek fixtures as well.
For information about lower divisions, please check out the Non League section of this website.
_________________________________________


The FA Cup is probably the oldest and most famous cup competition in European football. Although there are matches at the beginning of the season, the real FA Cup action starts in January, when the Premier League teams enter the competition. Most matches will be played on Saturdays, some on Sundays, in rare occasions also on Fridays. The cup final takes place at Wembley. It's characteristic for the competition that after a draw, there's no extra time or penalty shootout but a replay at the away team's stadium. If that match also ends with a draw, the match goes into extra time (and eventually goes to penalties). The cup winner will get to play UEFA Cup in the next season.
The League Cup is England's second cup competition. It has been named after a sponsor for quiet some time now, current name is "Carling Cup" (former names include: Worthington Cup, Milk Cup, Coke Cup, aso.). The competition begins with the season, there are rounds to be played in August and September (all during the week). But it's not until October that the big names of the Premier League enter the competition. There are no replays as in the FA Cup. A draw will automatically go into extra time. Compared to the FA Cup it's way less important. Some teams, such as Arsenal, play the matches with their reserve squad. The semi-final is played over two legs, the winner gets to go to Wembley and, if victorious, a spot in the UEFA Cup.
There's also a third cup competition, the JOHNSTONE'S PAINT TROPHY. Basically it's a competition for small clubs, as there are no teams from the Premier League or Championship involved at all. The final is also held at Wembley.
There aren't many teams from London, that qualify for European cups on a regular basis. Of course the two big names Arsenal and Chelsea always make it into the Champions League. Spurs are a candidate for the UEFA Cup, but that's pretty much it. With a little bit of luck, a smaller club from London might qualify via a cup competition, or even via the UI Cup in the preseason (e.g. West Ham 1999 or Fulham 2002).
_________________________________________


Friendlies are rare in London. First of all, there's no such thing as a winter break in English football. So that means, that firendlies are only played in the preseason. However it's very common that clubs don't host friendlies at their own ground, but at a smaller venue. However from time to time, there are friendly international fixtures in London, without participation of the England squad. Brazil has been playing at Emirates a few times, Australia at Craven Cottage, Senegal at the New Den aso.
_________________________________________


All England home matches will be played at the new Wembley stadium. From time to time, a London stadium will host a U21 match as well.
_________________________________________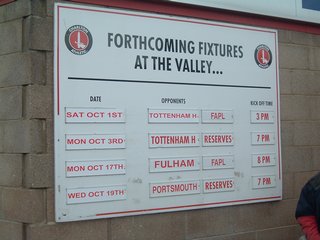 Important links to fixtures lists:
A good, comprehensive site: www.fixtures365.com
If you're looking for fixtures of a specific club (opens in new window):
Arsenal FC
Chelsea FC
Barnet FC
West Ham United FC
Queens Park Rangers
Brentford FC
Charlton Athletic FC
Fulham FC
Tottenham Hotspur FC
Crystal Palace FC
Millwall FC
Leyton Orient
Dagenham & Redbridge FC
AFC Wimbledon


Fixture list on the official Premier League website: HERE
Fixture list on the official Football League website: HERE

Changed kick off times to due TV coverage; Premiership Football League